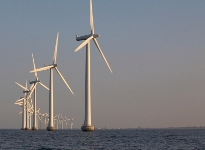 Over 140 delegates attended the latest Rampion Meet the Buyer event which was held in Shoreham-by-Sea at the end April.
Marine South East organised the event which was hosted by E.ON and focused on the suppliers of products and services to support the offshore construction and installation of the wind farm.
The third and final Meet the Buyer event of the series will be held in Newhaven, in June/July (date and venue to be confirmed). This event will be targeting those who are interested in supplying products and services specifically to support the Operations and Maintenance function of the wind farm. This could include those companies who can support the construction and fit out of the operations base, due to be built in 2016, as well as service contracts for the base once it is up and running in 2017, and crew transfer vessels to support turbine maintenance.
This final event is aimed at local companies based in Sussex, Kent, Surrey and Hampshire. 
Make sure you are registered on the Sussex Wind Energy website http://www.sussexwindenergy.org.uk/ in order to receive details of this event.